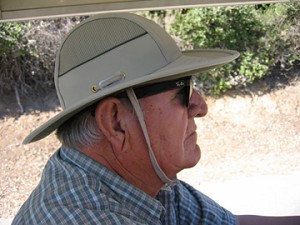 A close friend once said: "The trouble with doing nothing is that you never know when you are finished." Most seniors don't want to get too serious about a job. In an informal pole, of recently retired people indicated that the following would make up a perfect retirement job:
• Working only a few hours per week.
• Being able to take time off and travel for extended periods of time, especially during the winter months.
• Working outdoors in the fresh air.
• Having a job where the benefits are the real compensation, and the income earned will not affect Social Security.
• Being able to work in casual clothing.
• Developing a new circle of friends.
If your desires for a part-time job fit some or all of the categories above, the local golf course might be the perfect fit. Golf courses operators need mature, honest and dependable people to fill their seasonal positions. At the start of each season golf course operators typically need to fill the following positions: Rangers, Starters, Beverage Cart Operators, Pro Shop staff, Bar/Grill staff and Grounds Maintenance staff (grass cutters).
WHAT CAN YOU DO?
Most golf course employees will tell you that the job of a Ranger is the most fun and the Beverage Cart Operator makes the most money.
Get Folks Moving
The Starter works at the first tee and meets everyone who comes to the course. The Starter explains the rules of the golf course and makes sure that each player has registered in the pro shop and has paid for his round.
Keep Folks Moving
The Ranger, or Players Assistant, witness an infinite variety of personalities, golf swings and golf wardrobes. Rangers don't need to go to Law Enforcement School or have been a drill sergeant in the Marines. The Ranger's job is to keep golfers moving at a consistent pace and help golfers if they have a problem.
Keep Folks Hydrated
The Beverage Cart Operator sells beverages and snacks to the golfers on the golf course. The truth is, you don't need to be a cute, young woman to do a good job on the Beverage Cart. Golfers want good, quick service and are known as big tippers. So men, women, young and old can earn big money as a Beverage Cart Operator.
Move Merchandise
To work in the Pro Shop requires limited computer skills and good phone skills. The job is answering the phone and taking tee-time reservations and collecting green fees and cart fees. In some cases, Pro Shop staff work in merchandise sales and displays. The Pro Shop generally pays a little more than the Ranger or the Starter.
Service with a Smile
Bar/Grill need wait staff, bartenders, cooks and cashiers, but each golf course is unique in their needs. Jobs in the Bar/Grill are usually fun and fast moving.
For those with a Green Thumb
The job of the grass cutters, Grounds Maintenance staff, is an area of great pride for the men and women who do these endless jobs. The Maintenance Staff must enjoy the sunrise and a variety of weather conditions.
Remember that the majority of the work on a golf course is done before most golfers get to the course.
The next time you see a maintenance worker at you local course, tell them how beautiful their course is and how much you appreciate their effort. The golf course will be even better the next time.
The benefits offered by golf course operators to their employees are second to none. Most golf courses allow their employees to play golf free. Many invite the spouse of their employees to also play free. Most golf courses allow free use of golf carts for employees. Many course operators have a reciprocal agreement with other courses where employees from their course get to play other golf courses free or at discounted rates. This is not always the case, but it never hurts to ask.
Just use good judgment and do not ask for a free round during peak times.
Experience is usually not required to work at a golf course. The golf course operators are looking for attitude, personal appearance, dependability and a genuine love of people. A perfect fit for those of us who were born before 1960.