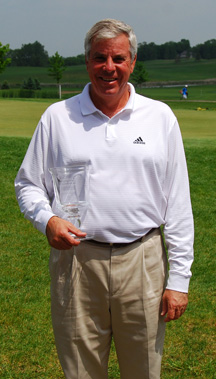 Constant work on his short game and good golf course management brought Mike Zinni a third straight victory in the Minnesota Senior Open Golf Championship.
"As we get older and lose our flexibility, we hit fewer good shots. To save those pars, I work hard on my short game." These were the words of 59 year old Mike Zinni, in an interview for Tee Times. Zinni also gave a little insight into his instinct on the golf course. "During my practice rounds, I always determine the best angle to approach the greens for the greatest chance for making birdies. On par fives that I can't reach in two, I lay back to 100 yards where I can control the spin on the ball, especially when the pins are tucked."
Zinni used the magic of his incredible short game and mature golf course management to win his third straight Minnesota Senior Open Title held June 2nd and 3rd at The Ridges at Sand Creek Golf Club in Jordan, MN. Shooting 7 under par (69 – 68) Zinni carded 11 birdies in the 36 hole event. He finished the first round strong with birdies on the 16th and 18th holes, both par fives, for a solid round of 69. Playing in the final group with a one shot lead on the second day, Zinni immediately left the field in the dust, making birdies on holes 1, 2, 3, 5 and 8 to move to 8 under par. Zinni then coasted home playing the next 10 holes in a respectable one over to win by three shots over runner-up John Snyder (72 – 68). Zinni and the other senior players enjoyed the Ridges at Sand Creek, a first time venue for the Minnesota Senior Open. They expressed both love and respect for this maturing Joel Goldstrand design. "There are some pretty cute holes down by the river," Zinni said. He was referring to the twelve holes created along meandering Sand Creek for which the golf course derives its name. With dramatic elevation change, tough greens, strategic bunkering and plenty of water the golf course presents a fair but challenging test. The Ridges at Sand Creek owner/manager, Mike Malone, and his superintendent, Scott Wersal, had the golf course in true tournament condition for the Senior Open and for the Minnesota High School A and AA Golf Championships held the following two days.
Zinni grew up in Wichita Falls, Texas and honed his skills competing in junior golf events in Texas. After high school, he was awarded a scholarship at University of Houston, a national power at the time. He later transferred to Midwestern State University in his home town of Wichita Falls where he earned Division II All-American honors as a senior in 1970.
Zinni has always been a good player, but since turning 50 his golf talents have blossomed. He has won three straight Minnesota Senior Open Championships. In addition to the Minnesota Senior Open, Zinni has played in three USGA Senior Open Championships. He has also competed in seven events on the Champions Tour. His most notable success came four years ago when Zinni finished third in the Toshiba Championship at Newport Beach, CA. Holing a dramatic 15 foot downhill putt for a birdie on the final hole on national television to go 11 under, Zinni become the clubhouse leader. That putt created quite a stir in the media. "Who is that that club pro from frozen Minnesota with a chance to win the Championship?" The eventual winner, Hale Irwin made five birdies in a row down the stretch to win and to save Zinni some sleepless nights. Television commentator, Jay Randolph, asked Zinni, "What would have happened if you had won the Championship?" Zinni replied, "It would have made my life a lot more complicated." (Zinni would have been exempt on the Champions Tour for a year. This would have forced him to decide between his comfortable life as a club pro in a small midwest city and a traveling professional golfer with a chance of fame and fortune on the demanding grind that is the Champions Tour).
Zinni enjoys his life as head professional at Mankato Golf Club in Mankato, MN where he is in his 21st season. His summer months are busy with administrative duties, lessons and competitive golf. Zinni is also the golf coach at University of Minnesota, Mankato. He loves this job and has a goal to make U of M, Mankato the second best golf team in Minnesota. The part he likes the best, he is growing the program with Minnesota Kids. Zinni relaxes with his wife in Florida during the winter months. He plays golf and works out regularly with a personal trainer. His work outs include some light weights and a lot of core work, to keep the stomach and back strong. He did some Pilates work two years ago and plans to include Pilates training in the future. Zinni has two bits of advice for senior golfers. Walk as much as possible. Even if you ride when you play golf, walking keeps you flexible and strong so you don't run out of gas in those last few holes. The older you get the more you should work on your short game.
A fit senior golfer with a good short game and who understands golf course management is hard to beat.