Growing up in Winnipeg, Canada, Tom Smith caddied at St. Charles Country Club where his dad was a member. St. Charles CC is a one of a kind 27 hole golf course where Donald Ross designed the first nine and Allister MacKenzie designed the second nine; believed to be the only such golf course in the world. At age twelve Tom started competing in junior club tournaments and playing with his older brother and his dad. At about the same time Tom's father bought a cabin near Bemidji where the family spent much of their time during the summers. Tom and his brother would play golf all day at Bemidji Town and Country Club where he honed his golf skills and learned to compete. Tom won the Junior Division Championship at both the Birchmont and Vanderslooth Golf Tournaments at Town and Country Club. The summers in Bemidji taught Tom to love Minnesota, he enrolled at the University of Minnesota after graduation from high school in Winnipeg.
After one season as a member of the U of M Golf Team, Junior Varsity, Tom gave up college golf to concentrate on the books. He earned a BA degree in Business in 1969. While a student at the U, Tom met his future wife, Peggy, from a small town in western Minnesota. After graduation Tom and Peggy moved back to Winnipeg where Tom joined the family real estate and insurance business that dates back to 1910. Busy growing the family business and raising three children, Tom became an occasional golfer with a mid-single digit handicap. With the family business in the capable hands of his partner, Tom and Peggy started looking for business opportunities in the United States where their youngest son, born with a mental disability, would have many more options available.
In 1993 Tom and Peggy purchased Brackett's Crossing Country Club, the old Honeywell Country Club, in Lakeville, MN and Tom's life took a turn in a new direction. Applying the sound business skills learned in Canada, Tom worked with Joel Goldstrand, renowned Minnesota Golf Architect, to develop a master plan of golf course improvements designed to improve drainage, replace and redesign bunkers and improve turf conditions. The first step in the plan, to improve drainage, was a brave first move for a golf course where the members and regular players at the course wanted to see immediate visible facelifts. The drainage project replaced many of the old underground culverts with beautiful flowing water hazards that moved water off the course during periods of heavy rain and added to the asthetics. Some other areas of the golf course required major, agricultural type, drainage where over three miles of large underground pipes were buried deep in the earth. These expensive and not visible improvements have proved to be the base that the course has grown from.
With the drainage problems solved, other important golf course improvements continued. Twenty-three bunkers were added and others bunkers were made deeper or completely replaced. A new green was constructed on #7 and the lake at the par 3, 16th was expanded to wrap around the green creating one of the most visually pleasing and demanding par 3 holes in the state. Tomorrow's course improvement plans call for the addition and improvement of several forward tees. In addition to the golf course improvements, the clubhouse and pro shop have been expanded and improved. Tom is proud of the new 16,000 square foot addition to the clubhouse. The new upstairs banquet facility will seat over 600 for a sit down dinner and can handle two weddings at one time. The club now has a beautiful new chapel area for outdoor weddings. The new member's dining area with views of the golf course and patio seating is a huge hit with the membership. Is it any wonder that, while many private clubs in the area are losing members, Brackett's Crossing's has a full membership.
With an experienced Club Manager, Golf Professional and a daughter who is involved in membership sales and marketing, Tom has had time, over the past few years, to work on his golf game. Tom is among the elite senior golfers in Minnesota and California, where he spends the winter. His best season was 2005 when Tom earned MGA Sr. Player of the Year honors. That year he won the MGA Sr. Players Championship, he was second in the MGA Sr. Amateur Championship and second in the MGA Sr. Four-Ball Championship. Last year Tom and partner, Larry Barnacle, won the MGA Sr. Four-Ball Championship at Town and Country Club in St. Paul. During the winter months Tom has won the Sr. Club Championship at PGA West CC, a huge multi-course complex, in Palm Springs, CA.
At age 62 Tom is a businessman with successful businesses in Minnesota and Canada and a golf game that he can take on the road and compete with senior golfers anywhere. Oh yes, Tom and Peggy's son is doing great. He lives in his own apartment and has a job at Cub Foods.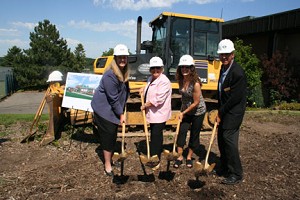 Sarah Smith-Larkin, Peggy Smith, Christine Goodfellow and Tom Smith break ground on Brackett's Crossing new clubhouse addition